New 0.5 kg Clegg Impact Tester / Clegg Decelerometer with Hard Case
for Golf Greens
Click here for model for Sports Turf and Athletic Fields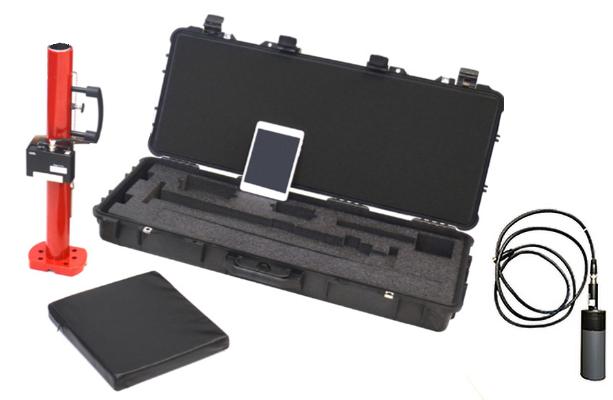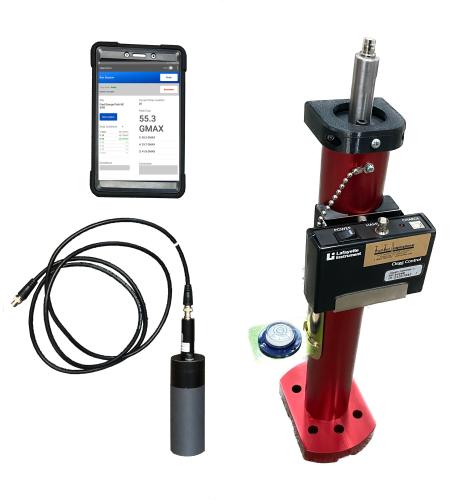 The Clegg Impact Tester is a professional instrument used to determine hardness on all types of areas - Readings in Gravities (Gmax), CIT's and F355 Equivalent
New for 2020 - The Clegg Impact tester 0.5 kg unit has a wireless Bluetooth sending unit and GPS enabled tablet, data logging and mapping. The NEW PNCLEGG-S-2.25-A- Clegg Impact Tester 2.25 kg model reads out from 0 to 150 Gravities, 0 to 15 CIT's or 0 to 218 - F355 GMax equivalent readings and has a better accuracy range (+/- 1% or 1.5 G Accuracy) as compared to the 0-1000 Gravity unit (+/- 1% or 10 G Accuracy) for testing soft surfaces like golf greens. Also, the 0.5 kg size will not damage the putting surface.

The 0.5 kg Clegg Impact Tester unit is a professional instrument to determine hardness specifically on Golf Greens, Golf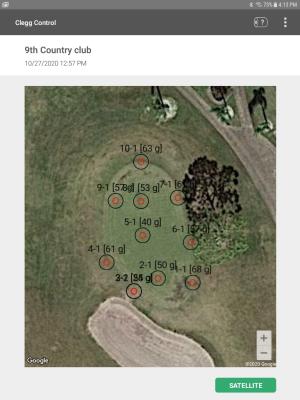 Green approaches and bunker sand. These reading will ensure consistent playability and uniformity from green to green.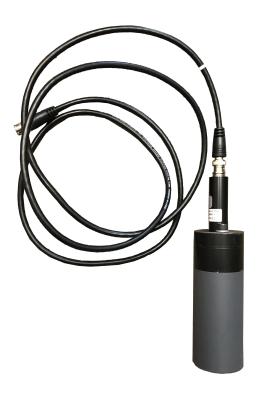 Instruction Manual and App comes with conversion formula to convert readings to F355 equivalent readings. Note the 150 g maximum reading on this unit is sufficient for maximum impact readings in the ASTM F355 range after using the conversion formula included in the Turf-Tec Instruction Manual. 200 g's on F355 Impact Tester = 135 g's on Clegg Impact Tester.
The principle behind the Clegg Impact Soil Tester, also called the Clegg Hammer and Clegg Decelerometer, is to obtain a measurement of the deceleration of a free falling mass (Hammer) from a set height onto a surface under test to determine its hardness. The impact of the Hammer produces an electrical pulse, which is converted and displayed on the GPS enabled tablet in units of gravities "G-max", tens of gravities "CIT", or F355 Equivalent units. Reference ASTM test methods ASTM 1936, ASTM F355, D5874 and F1702.
The standard test protocol for sports field testing is to drop the hammer one consecutive time on the test area result. The Clegg offers the convenience of rapidly scanning compaction variation over large areas.
0.5 kg

- Used for soft turf, sand areas and golf greens (0 to 1000 Gravities)

2.25 kg

- Used for surfaces consisting of natural or synthetic turf (football, baseball, soccer fields, playgrounds, pitches, horse tracks, and golf greens) (0 to 1000 Gravities) (+/- 1% or 10 G Accuracy)

2.25 kg-A

-

New

Used for surfaces consisting of natural or synthetic turf (football, baseball, soccer fields, playgrounds, pitches, horse tracks, and golf greens) (0 to 150 Gravities)

New

(+/- 1% or 1.5 G Accuracy)

4.5 kg

- Used for surfaces such as preconstructed soils, trench reinstatement, bell holes, and foundations

10 kg

- Used for flexible pavement, aggregate road beds, trench reinstatement, bell holes, and foundations

20 kg

- Used for surfaces such as flexible pavement, aggregate road beds, trench reinstatement, bell holes, and foundations

Simple and quick test procedure

The 0.5 kg Clegg test procedure is very rapid and can easily be performed by site personnel with minimal training. Each test can be completed in less than 30 seconds and the results are immediate.
Select a fairly level surface.
Set the guide tube into position. Secure by placing a foot on the tube's base flange and steady with the lower leg and knee.
The tablet app is placed in the test mode.
The Hammer is raised to the drop height designated by the indicator mark.
The level is centered.
The Hammer is released allowing it to fall freely.
The Gravities value (Gmax), CIT value or F355 equivalent reading is displayed and is instantly saved, along with the GPS coordinates, into the Clegg app.
Move to the next test site and repeat the test procedure.

Clegg shown with Turf-Tec hard case
The 0.5 kg Clegg Impact Tester is a professional instrument used to determine hardness on all types of areas from Golf Greens, approaches and bumber sand for uniform playability.
Specifications:
Clegg 0.5kg Hammer with hardened strike face

Guide tube is aluminum and will provide years of reliable, accurate service

Tablet comes ready to use with Clegg Control Application pre-installed and calibrated to your Clegg Hammer (available in the iOS & Google Play Store)
Unit Comes with the following:
0.5 kg Impact Hammer

Guide Tube with Foot

Bubble Level

Samsung Galaxy Tablet "A" with Clegg Control Application

GPS Integrated Tablet

Bluetooth Sending Unit

BNC Coax Cable

12x12 inch Foam Calibration Pad (0-150g 2.25 kg-A unit)

Instruction Manual

Charger

Hard Case

Battery Life: 12 Hours

3.7V/1.75Ah Lithium Ion Battery

Complete Charge in 3 hours

Results displayed/stored on Tablet-Based Application

App is also available in the Google Play Store for Android

App is also available in Apple Store for Iphone and Ipad
PNCLEGG-S-0.5 - Clegg Impact Tester 0.5 kg model

Click here to order this product
Click here for instructions for 0.5 kg Clegg Android Version
---
1471 Capital Circle NW, Suite # 13
Tallahassee, FL 32303
Order Line (800) 258-7477
Phone (850) 580-4026
Fax (850) 580-4027
---
Copyright 2021
Turf-Tec International Terms of Sale and Warranty LIMITED WARRANTY OF TURF-TEC INTERNATIONAL PRODUCTS Turfgrass Products Corporation - dba - Turf-Tec International ("Seller") warrants to the final purchaser, that all Turf-Tec International tools will be free from defects in material or workmanship for a period of one year from date of purchase. SELLER'S SOLE OBLIGATION AND YOUR EXCLUSIVE REMEDY under this Limited Warranty and, to the extent permitted by law, any warranty or condition implied by law, shall be the repair or replacement of parts, without charge, which are defective in material or workmanship and which have not been misused, carelessly handled, or improperly repaired by persons other than Turf-Tec International. To make a claim under this Limited Warranty, you must return the complete tool, transportation prepaid, to Turf-Tec International after contacting Turf-Tec International and receiving a return authorization number. Please include a dated proof of purchase with your tool. ANY IMPLIED WARRANTIES SHALL BE LIMITED IN DURATION TO ONE YEAR FROM DATE OF PURCHASE. IN NO EVENT SHALL SELLER BE LIABLE FOR ANY INCIDENTAL OR CONSEQUENTIAL DAMAGES (INCLUDING BUT NOT LIMITED TO LIABILITY FOR LOSS OF PROFITS) ARISING FROM THE SALE OR USE OF THIS PRODUCT. THIS LIMITED WARRANTY GIVES YOU SPECIFIC LEGAL RIGHTS, AND YOU MAY ALSO HAVE OTHER RIGHTS WHICH VARY FROM STATE TO STATE IN THE U.S., PROVINCE TO PROVINCE IN CANADA AND FROM COUNTRY TO COUNTRY. Return Policy: Turf-Tec International has been in business since 1976 and we pride ourselves in producing quality tools that last for years and years. We offer a 100% satisfaction guarantee on all of our products and will gladly accept any return for a credit to be used at Turf-Tec International for future orders or a check refund may be issued. There is a 30% re-stocking fee for all returned merchandise whether an in house credit or a refund is requested and shipping charges will not be refunded. All returned merchandise must be new and in re-salable condition. Turf-Tec will only receive returns if a return authorization number is first obtained from Turf-Tec International. Again, all returned merchandise must be new and in re-salable condition and Turf-Tec does not pay return shipping fee's. Hold Harmless Agreement The seller shall protect, defend, indemnify and hold the purchaser and their respective assigns and their attorneys, accountants, employees, officers and directors harmless from and against all losses, costs, liabilities, claims, damages and expenses of every kind and character, as incurred, resulting from or relating to or arising out of the inaccuracy of results, injury of user, injury of sports participant, turfgrass loss, warranty, covenant or any agreement made by the seller in this agreement.