Turf-Tec Light Meter for Quantum PAR - Spot On
Model - LIGHT-PAR-W
---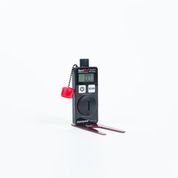 The Turf-Tec Light Meter for Quantum PAR by Spot On is an affordable light meter that provides scientifically accurate Photosynthetic Active Radiation (PAR) light readings. This meter is designed for measuring PAR light indoors and outdoors regardless of light source type. It works well for Golf Greens, Sports Fields, Stadiums, greenhouse, agricultural fields, and R&D applications requiring reliable plant growth light readings.
The chemical reaction of photosynthesis requires light. Unlike energy based light measurements, the quantum (quantity) of photons is measured since it can be directly tied to the number of these chemical reactions that can take place. The measure of all available light between the wavelength (color) range of 400 to 700 nanometers(nm) has been accepted as the best measure of light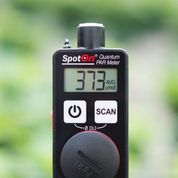 available for photosynthesis. This is defined as quantum Photosynthetic Active Radiation (PAR) in units of μmol m-2 s-1. This is referred to as PAR light, PPFD, PPF, and Quantum light interchangeably and is the total quantity of photons in μmoles over the light spectrum from 400 to 700 nm hitting a one-meter square area every second.
The Turf-Tec Light Meter for Quantum PAR by Spot On can also determine the total number of photons incident on one square meter over a 24-hour period. This is defined as the Daily Light Integral (DLI) and is displayed in moles per square meter per day. The typical range for DLI is 3 to 26 moles m-2 day-1. This is useful for understanding the average amount of light your cropseesin a day. One mole is equal to one million micromoles.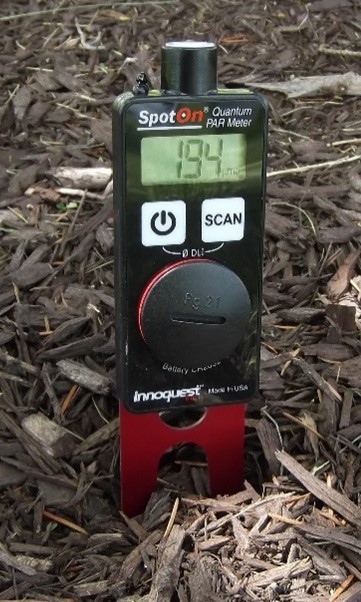 Features
* Provides accurate PAR light readings from ANY light source:
- Full sun to full shade indoors or outdoors
- Artificial light sources (LED, High Pressure Sodium, Metal Halide, Florescent, and Halogen
* Three modes of operation:
- Instant Spot Measurement mode for PAR light readings.
- Scan mode for quickly averaging PAR over an area.
- DLI mode shows Daily Light Integral on the LCD (no computer needed).
* Compact and easy to use.
* Integral mounting plate for: stand, stake, lanyard & hanger hole, and magnet mounts.
* Small size allows light readings in tight spaces without needing an external sensor
* 1/4-20 threaded hole for mounting on camera tripods & stands
* Water & Impact resistant
* Includes sensor cover & soft carrying case
Specifications Range:
| | |
| --- | --- |
| PAR Light | 0.0 to 6,500 µmol m-2 s-1 |
| DLI (Daily Light Integral) | 0.0 to 560.0 moles m-2 day-1 |
| Display Resolution: | PAR Light 0.1 µmol m-2 s-1 from 0.0 to 99.9 1 µmol m-2 s-1 from 100 to 6,500 DLI 0.1 moles m-2 day-1 |
| Accuracy: | +/- 5% (Each meter is calibrated to a NIST traceable light sensor on a broad-spectrum light source.) |
| Azimuth Error: | +/- 0.5% over 360° |
| Daily Light Integral (DLI): | Calculated continuously from light readings every 3 minutes |
| Water Resistant: | IP-65 rated for use in rain, irrigation, and condensing environments (do not submerge) |
| Operating Environment: | 32-130°F(0-55°C) with 0-100% RH (condensation ok) |
| Battery: | CR2032 3v coin cell lithium included (2-year battery life) |
| Size & Weight: | 1.75in(4.5cm)W x 5.75in(14.6cm)L x .85in(1.8cm)D / 0.17lb(77g) |
| Response Data: | See Fig. 3 for Spectral Response Graph See Fig. 4 |
| Cosine Response Graph : | (Red line is meter response; Black line is ideal response) |
LIGHT-PAR-W - Turf-Tec Light Meter for Quantum PAR - Spot On
Turf-Tec International Terms of Sale and Warranty LIMITED WARRANTY OF TURF-TEC INTERNATIONAL PRODUCTS Turfgrass Products Corporation - dba - Turf-Tec International ("Seller") warrants to the final purchaser, that all Turf-Tec International tools will be free from defects in material or workmanship for a period of one year from date of purchase. SELLER'S SOLE OBLIGATION AND YOUR EXCLUSIVE REMEDY under this Limited Warranty and, to the extent permitted by law, any warranty or condition implied by law, shall be the repair or replacement of parts, without charge, which are defective in material or workmanship and which have not been misused, carelessly handled, or improperly repaired by persons other than Turf-Tec International. To make a claim under this Limited Warranty, you must return the complete tool, transportation prepaid, to Turf-Tec International after contacting Turf-Tec International and receiving a return authorization number. Please include a dated proof of purchase with your tool. ANY IMPLIED WARRANTIES SHALL BE LIMITED IN DURATION TO ONE YEAR FROM DATE OF PURCHASE. IN NO EVENT SHALL SELLER BE LIABLE FOR ANY INCIDENTAL OR CONSEQUENTIAL DAMAGES (INCLUDING BUT NOT LIMITED TO LIABILITY FOR LOSS OF PROFITS) ARISING FROM THE SALE OR USE OF THIS PRODUCT. THIS LIMITED WARRANTY GIVES YOU SPECIFIC LEGAL RIGHTS, AND YOU MAY ALSO HAVE OTHER RIGHTS WHICH VARY FROM STATE TO STATE IN THE U.S., PROVINCE TO PROVINCE IN CANADA AND FROM COUNTRY TO COUNTRY. Return Policy: Turf-Tec International has been in business since 1976 and we pride ourselves in producing quality tools that last for years and years. We offer a 100% satisfaction guarantee on all of our products and will gladly accept any return for a credit to be used at Turf-Tec International for future orders or a check refund may be issued. There is a 30% re-stocking fee for all returned merchandise whether an in house credit or a refund is requested and shipping charges will not be refunded. All returned merchandise must be new and in re-salable condition. Turf-Tec will only receive returns if a return authorization number is first obtained from Turf-Tec International. Again, all returned merchandise must be new and in re-salable condition and Turf-Tec does not pay return shipping fee's. Hold Harmless Agreement The seller shall protect, defend, indemnify and hold the purchaser and their respective assigns and their attorneys, accountants, employees, officers and directors harmless from and against all losses, costs, liabilities, claims, damages and expenses of every kind and character, as incurred, resulting from or relating to or arising out of the inaccuracy of results, injury of user, injury of sports participant, turfgrass loss, warranty, covenant or any agreement made by the seller in this agreement.