Sand Penetrometer
/ Pocket Penetrometer
Use the Sand Penetrometer to determine the likelihood of having fried egg lie development in your sand traps. With the easy to use Sand Penetrometer, you can test your bunker sand right on your own golf course to determine if the golf ball will be buried or sit up and be playable.
Simply slide the red ring down against the Sand Penetrometer instrument handle, grip the knurled portion of the handle and place the attached golf ball over the bunker sand that you will be testing. Then by pressing downward evenly on the Sand Penetrometer until the attached golf ball reaches the line located at the center, read the results.
Read the unconfined strength in Tons per Square Foot or Kilograms per Centimeter Squared. The reading is located on the lower side of the red ring - (side closest to the knurled handle).
This tool is excellent if you are re-constructing sand traps, renovating sand traps or just adding new sand to existing bunkers.
~~~~~~~~~~~~~~~~~~~~~~~~~~~~~~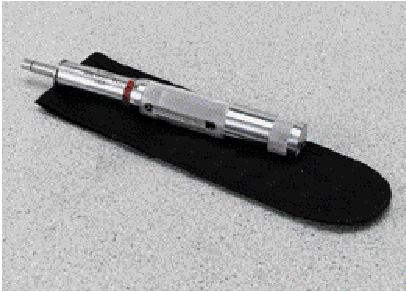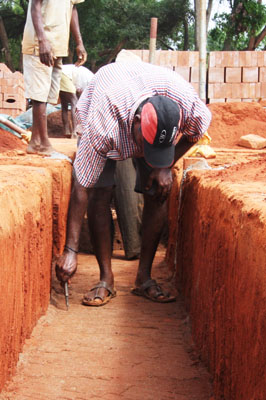 The Pocket Penetrometer unit is also required by OSHA on all excavation jobs to verify whether sidewalls require shoring in excavation trenches
Protect against costly law suits and construction delays.
The Pocket Penetrometer was originally developed for use by field personnel in checking visual classification of soils. Data was compiled on several thousand unconfined compressive strength tests of silty clays and clayey soils against the penetrometer readings to develop the scale. A close relationship exists between the penetrometer's scale reading and soil type. Spring-operated device measures strength in tons per sq. ft. or kg per sq. cm. Simply push the device's loading piston into soil to a depth of .25". A friction ring indicates maximum reading.
Specifications
Direct-reading scale in tons/sq. ft. and kg/sq. cm.
Ground and polished stainless steel loading piston.
Calibrated spring and Penetrometer body plated for rust resistance and long life.
Range 0.25 to 4.5 tons/sq. ft. (kg / sq.cm).
Scale Divisions. 0.25 tons/sq. ft. (kg / sq.cm).
Load Piston. 1/4" (6 mm) diam.; stainless steel.
Dimensions 3/4" diam. x 6-3/8" Inch (19 x 162 mm).
Net Weight 10oz. (283 g).
Click Here for Instructions on This Product
PN5-S Sand Penetrometer / Pocket Penetrometer
Turf-Tec International Terms of Sale and Warranty LIMITED WARRANTY OF TURF-TEC INTERNATIONAL PRODUCTS Turfgrass Products Corporation - dba - Turf-Tec International ("Seller") warrants to the final purchaser, that all Turf-Tec International tools will be free from defects in material or workmanship for a period of one year from date of purchase. SELLER'S SOLE OBLIGATION AND YOUR EXCLUSIVE REMEDY under this Limited Warranty and, to the extent permitted by law, any warranty or condition implied by law, shall be the repair or replacement of parts, without charge, which are defective in material or workmanship and which have not been misused, carelessly handled, or improperly repaired by persons other than Turf-Tec International. To make a claim under this Limited Warranty, you must return the complete tool, transportation prepaid, to Turf-Tec International after contacting Turf-Tec International and receiving a return authorization number. Please include a dated proof of purchase with your tool. ANY IMPLIED WARRANTIES SHALL BE LIMITED IN DURATION TO ONE YEAR FROM DATE OF PURCHASE. IN NO EVENT SHALL SELLER BE LIABLE FOR ANY INCIDENTAL OR CONSEQUENTIAL DAMAGES (INCLUDING BUT NOT LIMITED TO LIABILITY FOR LOSS OF PROFITS) ARISING FROM THE SALE OR USE OF THIS PRODUCT. THIS LIMITED WARRANTY GIVES YOU SPECIFIC LEGAL RIGHTS, AND YOU MAY ALSO HAVE OTHER RIGHTS WHICH VARY FROM STATE TO STATE IN THE U.S., PROVINCE TO PROVINCE IN CANADA AND FROM COUNTRY TO COUNTRY. Return Policy: Turf-Tec International has been in business since 1976 and we pride ourselves in producing quality tools that last for years and years. We offer a 100% satisfaction guarantee on all of our products and will gladly accept any return for a credit to be used at Turf-Tec International for future orders or a check refund may be issued. There is a 30% re-stocking fee for all returned merchandise whether an in house credit or a refund is requested and shipping charges will not be refunded. All returned merchandise must be new and in re-salable condition. Turf-Tec will only receive returns if a return authorization number is first obtained from Turf-Tec International. Again, all returned merchandise must be new and in re-salable condition and Turf-Tec does not pay return shipping fee's.