Field Scout Digital Moisture Sensor (TDR 350)



Now included in the Professional Golfers Association (PGA) Tours "2010-2014 Course Conditioning Guidelines"
New! Also used by The National Football League (NFL) and the United States Golf Association (USGA)
New! Also recommended for Horseracing Integrity and Safety Act of 2020 H.R. 133 Title XII

TDR 350 Soil Moisture Meter - MSFS-TDR350
The FieldScout TDR 350 is the next generation to the TDR 300 series soil moisture meter. The new enhancements to the TDR 350 include EC (Electrical Conductivity) measurement, turf surface temperature measurement, an improved backlit display, integrated Bluetooth, and internal GPS. In addition to offering the proven time-domain measurement technology that turf professionals have come to trust in the FieldScout TDR brand.
The FieldScout TDR 350 soil moisture sensor takes into account EC readings and integrates that reading into the TDR results, giving consistent readings no matter if the soil EC level is higher or lower. For Horse Tracks, The TDR350 Moisture Senor conforms to standards testing for H.R. 133 Title XII—Horseracing Integrity and Safety Act of 2020 for the racetrack safety program (Stimulus BILL 116 HR 133 Public Law 116 - 68). It can be used on Dirt, Turf, Synthetic and Grass racetracks.
New Features:
Measurements:
The new TDR 350 has increased accuracy to measure Soil Volumetric Water Content (VWC), along with Soil Electrical Conductivity (EC), and soil surface temperature.
Integrated:
With integrated Bluetooth and GPS, no additional parts are necessary for Bluetooth connectivity and geolocation of readings. Using the FieldScout Mobile App, available for both iOS and Android, measurements can be automatically uploaded to SpecConnect with your FieldScout Pro subscription for visualization and data analysis.
Display:
An industry exclusive, larger backlit LCD display provides optimal contrasts for daylight and low light viewing, and larger digits for easier viewing of measurements. Receive instant readings – no smartphone or computer hookup required!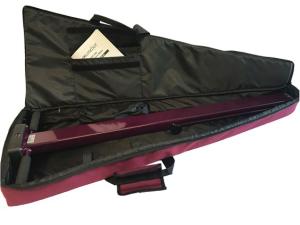 Data logging:
Large capacity data logger can record approximately 50,000 measurements with GPS coordinates. Data records can be saved to USB stick, or smartphones or tablets via Bluetooth when using FieldScout Mobile Pro to SpecConnect
Design:
The TDR 350 has an ergonomic design with a shaft-mounted probe that is a telescoping tubular frame. This allows users to easily and rapidly take many measurements in various turf and soil environments.
Specifications
| | |
| --- | --- |
| Measurement Principle: | Time -domain measurement methods |
| Measurement Units: | Percent Volumetric Water Content (VWC) |
| Resolution: | 0.1% VWC |
| Accuracy: | +- 3.0% VWC with electrical conductivity (EC) < 2 mS/cm |
| Range: | 0% to saturation (Saturation up to about 50% volumetric water depending on soil type) |
| Battery/Life: | 4 AA batteries |
| Data Logger: | 50,000 measurements |
| EC Range: | 0 to 5 mS/cm, Resolution: 0.01 mS/cm, Accuracy: +/- 0.1 mS/cm |
| Temperature Range: | -30°C to 60°C, Resolution: 0.1°, Accuracy: +/- 1°C |
The portable TDR Soil Moisture Meter has become the industry standard for site-specific soil moisture measurements. With this enhanced TDR 350 technology package, superintendents and Sports Turf Managers will realize even greater efficiency and labor savings in irrigation management.

With integrated Bluetooth and internal GPS, no additional components are necessary for GPS and Bluetooth connectivity. The large capacitydata logger can record approximately 50,000 measurements with GPS coordinates. Data records can be saved to USB stick, or via Bluetooth connection to smartphones or tablets with SpecConnect FieldScout Pro.
The TDR 350 has an industry exclusive larger backlit LCD display that provides optimal contrasts for low and high light viewing, and larger digits for easier viewing of measurements.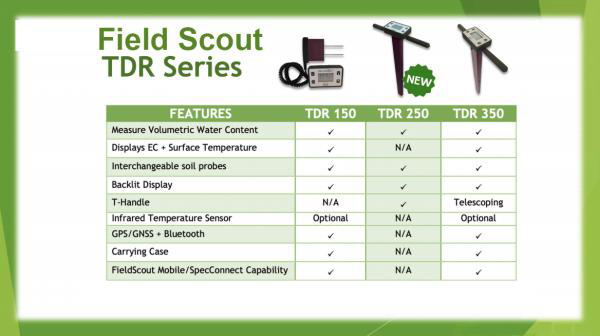 MSFS-TDR350 - Field Scout Digital Moisture Sensor TDR350
Click Here for Instructions on This Product
Turf-Tec International Terms of Sale and Warranty LIMITED WARRANTY OF TURF-TEC INTERNATIONAL PRODUCTS Turfgrass Products Corporation - dba - Turf-Tec International ("Seller") warrants to the final purchaser, that all Turf-Tec International tools will be free from defects in material or workmanship for a period of one year from date of purchase. SELLER'S SOLE OBLIGATION AND YOUR EXCLUSIVE REMEDY under this Limited Warranty and, to the extent permitted by law, any warranty or condition implied by law, shall be the repair or replacement of parts, without charge, which are defective in material or workmanship and which have not been misused, carelessly handled, or improperly repaired by persons other than Turf-Tec International. To make a claim under this Limited Warranty, you must return the complete tool, transportation prepaid, to Turf-Tec International after contacting Turf-Tec International and receiving a return authorization number. Please include a dated proof of purchase with your tool. ANY IMPLIED WARRANTIES SHALL BE LIMITED IN DURATION TO ONE YEAR FROM DATE OF PURCHASE. IN NO EVENT SHALL SELLER BE LIABLE FOR ANY INCIDENTAL OR CONSEQUENTIAL DAMAGES (INCLUDING BUT NOT LIMITED TO LIABILITY FOR LOSS OF PROFITS) ARISING FROM THE SALE OR USE OF THIS PRODUCT. THIS LIMITED WARRANTY GIVES YOU SPECIFIC LEGAL RIGHTS, AND YOU MAY ALSO HAVE OTHER RIGHTS WHICH VARY FROM STATE TO STATE IN THE U.S., PROVINCE TO PROVINCE IN CANADA AND FROM COUNTRY TO COUNTRY. Return Policy: Turf-Tec International has been in business since 1976 and we pride ourselves in producing quality tools that last for years and years. We offer a 100% satisfaction guarantee on all of our products and will gladly accept any return for a credit to be used at Turf-Tec International for future orders or a check refund may be issued. There is a 30% re-stocking fee for all returned merchandise whether an in house credit or a refund is requested and shipping charges will not be refunded. All returned merchandise must be new and in re-salable condition. Turf-Tec will only receive returns if a return authorization number is first obtained from Turf-Tec International. Again, all returned merchandise must be new and in re-salable condition and Turf-Tec does not pay return shipping fee's. . Hold Harmless Agreement The seller shall protect, defend, indemnify and hold the purchaser and their respective assigns and their attorneys, accountants, employees, officers and directors harmless from and against all losses, costs, liabilities, claims, damages and expenses of every kind and character, as incurred, resulting from or relating to or arising out of the inaccuracy of results, injury of user, injury of sports participant, turfgrass loss, warranty, covenant or any agreement made by the seller in this agreement.