Turf-Tec International ASTM Infiltration Rings
ASTM 3385 Double Ring Infiltrometer
IN10-W: 12 and 24 Inch Diameters for ASTM 3385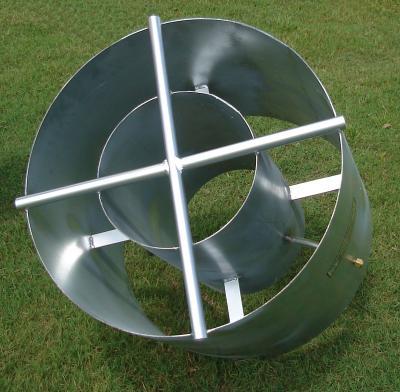 The new Turf-Tec Infiltration Rings have diameters of 12 and 24 inches (60 cm and 30 cm) and an overall height of 20 inches (50 cm) that match ASTM Standard D3385-09, which replaced old ASTM D3385-94 and ASTM D3385-03.
The Turf-Tec Infiltration Rings are double rings used for standard testing of soils with a hydraulic conductivity between 1 X 10-2 cm/s or less than about 1 X 10-6 cm/s, or sand type soils with high infiltration rates.
This Double Ring Infiltrometer set is constructed of heavy duty and durable galvanized steel and braced with welded steel supports, inside and out, to ensure the rings stay evenly centered as they penetrate the soil.
These Infiltration Rings are constructed of heavy duty 16 gauge (.065 inch) galvanized steel to prevent rust and ensure a long life. They also contain ports to allow easy connection of Turf-Tec Mariotte Tubes. These rings provide an ASTM approved double ring infiltration test which provides a soil infiltration test in a simple yet efficient manner.
Turf-Tec 12 and 24 inch Infiltration Rings are already centered in position for ease of positioning rings and ease of insertion into the soil. The welded handle and welded inside support braces ensure the rings are perfectly centered with every test. In addition, the center ring is already suspended 1 inch above the outer ring to identically match the ASTM specifications and to ensure exact soil placement.
This method of testing is useful for field measurement of the infiltration rate of soils. Infiltration rates have applications in the field of liquid waste disposal, evaluation of potential septic tank disposal fields, leaching studies and drainage efficiencies. They are also helpful in determining irrigation requirements, water spreading or recharge, canal leakage and reservoir leakage testing and studies.

The purpose of the double ring is to ensure the downward flow of movement of water to ensure proper measurements. These Infiltration Rings are ideal for taking ASTM infiltration tests on all areas and match the ASTM 3385 test.
The Turf-Tec 12 and 24 inch ASTM Infiltration Rings are useful in industries like geology, geotechnical, engineering, hydrology, forestry, environmental testing, hydro geological, runoff studies, rain gardens, wetland mitigation, permeability testing, sanitation contractors, project planning, Professional Engineers (P.E.) and EPA requirements. Double Ring Infiltrometer, standard set.
Mariotte Tubes are also available and highly recommended to maintain constant head pressure (IN12 Purchased separately)
Free downloadable spreadsheet for ASTM 3385 Infiltration Testing
Turf-Tec International Terms of Sale and Warranty LIMITED WARRANTY OF TURF-TEC INTERNATIONAL PRODUCTS Turfgrass Products Corporation - dba - Turf-Tec International ("Seller") warrants to the final purchaser, that all Turf-Tec International tools will be free from defects in material or workmanship for a period of one year from date of purchase. SELLER'S SOLE OBLIGATION AND YOUR EXCLUSIVE REMEDY under this Limited Warranty and, to the extent permitted by law, any warranty or condition implied by law, shall be the repair or replacement of parts, without charge, which are defective in material or workmanship and which have not been misused, carelessly handled, or improperly repaired by persons other than Turf-Tec International. To make a claim under this Limited Warranty, you must return the complete tool, transportation prepaid, to Turf-Tec International after contacting Turf-Tec International and receiving a return authorization number. Please include a dated proof of purchase with your tool. ANY IMPLIED WARRANTIES SHALL BE LIMITED IN DURATION TO ONE YEAR FROM DATE OF PURCHASE. IN NO EVENT SHALL SELLER BE LIABLE FOR ANY INCIDENTAL OR CONSEQUENTIAL DAMAGES (INCLUDING BUT NOT LIMITED TO LIABILITY FOR LOSS OF PROFITS) ARISING FROM THE SALE OR USE OF THIS PRODUCT. THIS LIMITED WARRANTY GIVES YOU SPECIFIC LEGAL RIGHTS, AND YOU MAY ALSO HAVE OTHER RIGHTS WHICH VARY FROM STATE TO STATE IN THE U.S., PROVINCE TO PROVINCE IN CANADA AND FROM COUNTRY TO COUNTRY. Return Policy: Turf-Tec International has been in business since 1976 and we pride ourselves in producing quality tools that last for years and years. We offer a 100% satisfaction guarantee on all of our products and will gladly accept any return for a credit to be used at Turf-Tec International for future orders or a check refund may be issued. There is a 30% re-stocking fee for all returned merchandise whether an in house credit or a refund is requested and shipping charges will not be refunded. All returned merchandise must be new and in re-salable condition. Turf-Tec will only receive returns if a return authorization number is first obtained from Turf-Tec International. Again, all returned merchandise must be new and in re-salable condition and Turf-Tec does not pay return shipping fee's. Hold Harmless Agreement The seller shall protect, defend, indemnify and hold the purchaser and their respective assigns and their attorneys, accountants, employees, officers and directors harmless from and against all losses, costs, liabilities, claims, damages and expenses of every kind and character, as incurred, resulting from or relating to or arising out of the inaccuracy of results, injury of user, injury of sports participant, turfgrass loss, warranty, covenant or any agreement made by the seller in this agreement.