Turf-Tec Ball Mark Repair Tool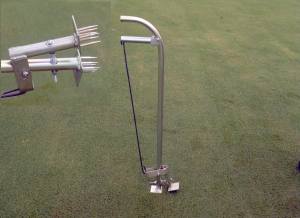 This Ball Mark Repair Tool is the best in the industry for repairing ball marks on Golf Greens.

Simply insert the stainless steel spikes into the golf green, squeeze the trigger and the soil is pressed together, lifting up the depression made by the golf ball.
This is a quick and necessary tool that every mower operator should carry. Never before has there been a quicker way to eliminate ball marks and restores greens to their original condition. Some advantages of the Turf-Tec Ball Mark Repair Tool is the fact that you can put the 1 1/2 inch deep stainless steel spikes into the golf green as deep or as shallow as you would like. After the spikes are inserted to the desired depth, you can also and lift it up as high or as low as you like.
Most ball mark tools have a "fixed" setting that only allows one action. As we know, all ball marks have different depths and severity. Also cool season turfgrasses in the summer do not need overly aggressive action, this tool allows you to be as aggressive or as gentle as you would like, all determined by the operator.
Operation
Simply insert the ball mark repair tool's stainless steel spikes into the soil on both sides of the ball mark to desired depth.

Deeper ball marks may require full insertion of 1 1/2" deep spikes whereas shallower ball marks may require only a slight insertion of the spikes.

Gently squeeze the trigger to close the jaws slightly and gently lift the tool upward. This will lift the ball mark to green level.

Change position of the spikes to a different angle above the ball mark and repeat the above process.

After you are satisfied that the ball mark has been raised sufficiently, gently tamp the ball mark with your foot or other suitable flat object to be sure that the green is level.

The tool can be inserted deeply or shallow into the green so the tool works well on all types of grass. There is on better tool for ball mark repair available.
Click Here for Instructions on This Product
BMRT1-M - Turf-Tec Ball Mark Repair Tool
Turf-Tec International Terms of Sale and Warranty LIMITED WARRANTY OF TURF-TEC INTERNATIONAL PRODUCTS Turfgrass Products Corporation - dba - Turf-Tec International ("Seller") warrants to the final purchaser, that all Turf-Tec International tools will be free from defects in material or workmanship for a period of one year from date of purchase. SELLER'S SOLE OBLIGATION AND YOUR EXCLUSIVE REMEDY under this Limited Warranty and, to the extent permitted by law, any warranty or condition implied by law, shall be the repair or replacement of parts, without charge, which are defective in material or workmanship and which have not been misused, carelessly handled, or improperly repaired by persons other than Turf-Tec International. To make a claim under this Limited Warranty, you must return the complete tool, transportation prepaid, to Turf-Tec International after contacting Turf-Tec International and receiving a return authorization number. Please include a dated proof of purchase with your tool. ANY IMPLIED WARRANTIES SHALL BE LIMITED IN DURATION TO ONE YEAR FROM DATE OF PURCHASE. IN NO EVENT SHALL SELLER BE LIABLE FOR ANY INCIDENTAL OR CONSEQUENTIAL DAMAGES (INCLUDING BUT NOT LIMITED TO LIABILITY FOR LOSS OF PROFITS) ARISING FROM THE SALE OR USE OF THIS PRODUCT. THIS LIMITED WARRANTY GIVES YOU SPECIFIC LEGAL RIGHTS, AND YOU MAY ALSO HAVE OTHER RIGHTS WHICH VARY FROM STATE TO STATE IN THE U.S., PROVINCE TO PROVINCE IN CANADA AND FROM COUNTRY TO COUNTRY. Return Policy: Turf-Tec International has been in business since 1976 and we pride ourselves in producing quality tools that last for years and years. We offer a 100% satisfaction guarantee on all of our products and will gladly accept any return for a credit to be used at Turf-Tec International for future orders or a check refund may be issued. There is a 30% re-stocking fee for all returned merchandise whether an in house credit or a refund is requested and shipping charges will not be refunded. All returned merchandise must be new and in re-salable condition. Turf-Tec will only receive returns if a return authorization number is first obtained from Turf-Tec International. Again, all returned merchandise must be new and in re-salable condition and Turf-Tec does not pay return shipping fee's. Hold Harmless Agreement The seller shall protect, defend, indemnify and hold the purchaser and their respective assigns and their attorneys, accountants, employees, officers and directors harmless from and against all losses, costs, liabilities, claims, damages and expenses of every kind and character, as incurred, resulting from or relating to or arising out of the inaccuracy of results, injury of user, injury of sports participant, turfgrass loss, warranty, covenant or any agreement made by the seller in this agreement.